The Warner Bros. Movie featuring a '79 J-truck. Click on the picture of the truck above to see a movie clip.
The 4x4 Web Page - courtesy of Dean Waters. Thisis a first-rate site, and well on it's way to being the WWWclearing-house for all things 4x4-related.

The AMX-Files - Sure, these guys are pretty distant cousins, butwho knows more about AMC V-8 engines? (Sorry, Kaiser-ites) There's not a whole lot of technical info on the page itself, but there'slots of source-type stuff tucked away in there.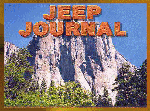 Part of the 4x4 4U Video Magazine Site

Looking for a New or Used Car?
The Land-Use Network
Keep up with how they're taking fun spots away from us
Part off the Off-Road Web Site
Looking for that hard-to-find SJ model? So are these guys, for us!
Check them out, and be sure to thank them for searching for us!