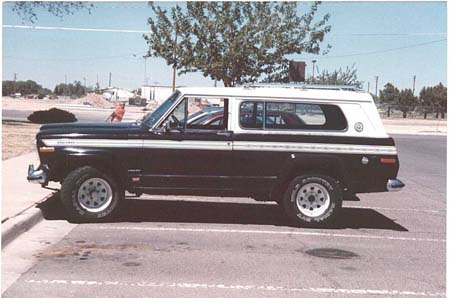 These are pictures of my 78' Cherokee S, affectionately known as the battlewagon. I bought it in 96' and it has been my daily driver since. When I drove it home it had 76,000 original miles on it, and best of all no rust! It now sports an odometer reading of 150,000 miles and still running strong. It is powered by an AMC 401 /Hydro-matic 400/QT/Dana 44's (3.56) front and rear. Since I've owned it, I have made several upgrades:
Part time conversion kit with 16 % O.D.
KC light bar
Rough Country 3" lift system
Gator Guard (Poly Liner) the interior floor
Swapped out factory front seats with F*RD Escort seats.
Midland C.B. w/ Wilson ANT.
Like most FSJr's I've spent plenty of time in junk yards looking for parts and have had some good results. I changed out the original "wagon wheels" for factory Jeep Mags with center caps. Found all the trim pieces for the windshield. I currently am working on putting a complete AC system together. Other plans include a SOA conversion and engine upgrades in the near future. Hopefully in time for Ouray 2002.