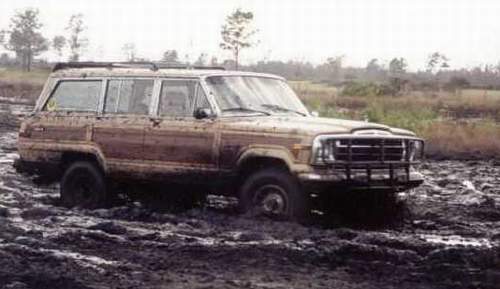 '87 Jeep Grand Wagoneer
360 V8
727 Automatic
229 Transfer Case
3" Spring Lift ( Rough Country)
Custom front receiver hitch.
Factory brush guard
Tow package
Original gold paint
Fresh front seat upholstery
Duplicolor bed liner on brush guard, roof rack and rear spoiler. Accel coil Edelbrock Performer intake and 4bbl carb.
I started out with a silver '88 Grand Wagoneer. Since my friends at Allied Discount Tires decided that they wanted to buy me a new Grand Wagoneer, they rolled mine on a simple test drive. What you can't see from this picture is that the truck was perfectly straight with very little rust and good paint the day before.
The second picture is the replacement '87 Grand Wagoneer I got from the money Allied gave me for my '88. This was the day I brought her home. Looks like a nice "car". She is garage kept and has the original paint, not faded at all. No rust. **** near perfect.
You can see what I did to her once I got ahold of her. Lifted and all. She does pretty good off road. I decided after a couple of off road trips that she was just too nice to subject her to the rigors of off road life. So I decided to get a J-10 to play with. You can see it in the J-10 section of this web site.
Nathan Van Meter
Casselberry, Florida