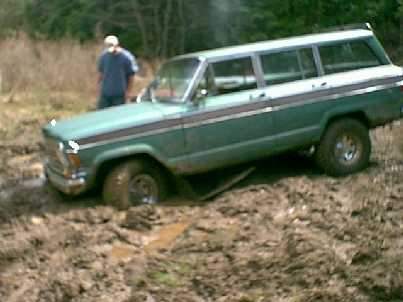 Well, there's not much to say about this beast except that i totally love it even though just about everything that can possibly go wrong or break has, is or will be soon!!! It's got an AMC 360 with a 2-barrell carb, a set of rusted out headers with a few holes in them (near the flange so i figure they ain't that bad), a new water pump, no fan shroud (i forgot to reinstall it after replacing the water pump and haven't gotten around to putting it back on), and it also has a recent battery. I spent about a grand putting new tires and wheels on it (31x10.50 ProComp MT's on AE 589's) that helped a lot to dress it up since it had three totally bald wild country's and one somewhat bald mud king or something like that. as you can see, the tires (which cost more than the truck) didn't exactly help me out of this mud hole and i had to be winched out by an old fj40!!!
Future upgrades include: all new gaskets so that when it rains i don't get wet inside, a new headliner (or maybe i'll just convert it to a soft-top because for some reason there are lots of pine needles between the headliner and the roof, kinda strange), new brakes or a new master cylinder -- sometimes it doesn't want to stop very easily, welding the gas pedal back onto the floor so that i can wear pants without getting them wet from the road grime and puddles and so i don't have to worry about it coming out of the hole i've wedged it in..., new window mechanisms on 3 of the doors -- including the drivers, a new windshield (mine has a crack that runs from the top to the bottom on the passenger side) so that i can repair/replace the gauges so i can tell how fast i'm going, fixing the track that the rear window slides in so that when i lower it i won't have to get out of the car and pull down on it to get it past the rough section. i think that's it for future upgrades, but i'm probably forgetting something.0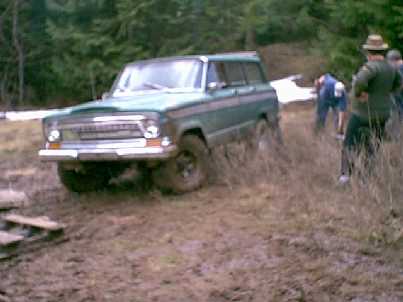 Immediate and necessary repairs: I gotta fix the transfer case because it won't shift out of 4-lo and the wagoneer is in a small town about a hundred miles away over a mountain pass, so there's no way to get it back in 4-lo. i also need to check the spark plugs because i don't think they are all firing, but the thing runs so that can wait. then there is the gas tank, which i really hate because it has a couple of holes in it near the fill spout or the rear end or somewhere so when you fill the tank and go up and incline, you spill fuel out from the top of the tank, under the truck, so that's kinda dangerous.
Anywya, despite all these "problems" i love my wag and i'd never give it up for any other vehicle, except maybe another one just like it, with a 401, 38's, a 10 inch lift, etc., etc.. Before the T-case ate itself or whatever the hell's wrong with it the wag used to have no problem goign anywhere. it would climb hills in 2wd that my buddies could barely climb in 4wd. it may look like it just got run over by a tank, but it still runs, sort of!!!
Cameron Gill
Seattle, WA
'72 Wagoneer