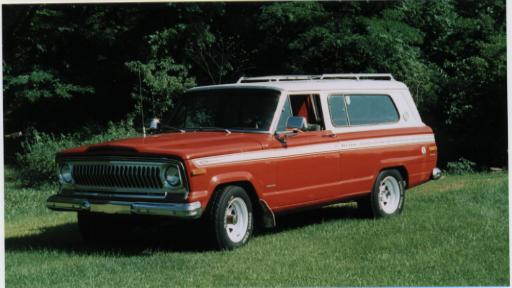 Bill writes:
My Cherokee is a 1975 Narrow Track with 170k miles. Original equipment includes, factory air, CC, ps, and pb, and electric rear window.
Owner: Bill Miller
email:
bmiller@unicom.net
Where: Olathe, Kansas
Color: "Reorange" (part orange part red) White trim
Engine: 360 (stock)
Transmission: TH400 (stock)
Wheels: Have the 7" stock steel wheels with old fashion hubs, but put on cheap after market rims to handle bigger tires for mudding around. Could not find a set of straight stock wheels any where for a decent price
Tires: 30" x 9.5's (fit with more room than I thought, thank Mike B!)
History: I bought this beauty off a friend of mine in South Dakota (who I'm sure misses her dearly) early this year. He kindly repaired most of the major problems it had after sitting dormant on the farm for a few years and had it sent to KC. I primarily made the investment in the Chero to protect my other 4 wheel drive from the ravages of hunting and the terrain and mud I find myself in almost every weekend. Also I wanted a junker that the dog could run around in and I would not care if it got trashed. Now I find myself driving it everyday and I seldom drive the 1997 4 Runner any longer.
The roomy back end is a joy to my hunting hound and the timeless styling and aerodynamics are right up my alley. I also wanted to hold down the cost of owning such a vehicle and I am learning through attrition that this is not going to be possible. But nonetheless, I love it and plan to be buried in it - (and it may lead me to an early grave...the seat belts rusted out!)
All in all it run great, and gets about 11 miles to the gallon and I have had it over 95 miles an hours on most of the back streets o KC several times. I have yet to see anything quite like it around here and I look forward to restoring it completely.
Repairs thus far:
Rebuilt Carb
New starter
New CV Joint
New brakes all the way around
New alternator
Replaced windshield wiper motor
New wipers
Totally replaced all interior carpet, padding, and underlayment
Patched all cancerous holes in tailgate and rear quarter panels
New tires and rims
New am/fm cassette deck and speakers
Replaced missing external and internal trim
New weatherstripping
Fixed heating and cooling system
Repaired glove box and lock our mechanism
Converted electric tail gate to crank
Fixed slow filling gas tank
Adjusted Steering
Replace all missing lights internal and external
New break lines
Replace lights in the dash
Future Plans
4 inch super lift kit for more clearance for the off road excursions I
take
- it has some serious sagosis!
New shocks
Build in gun locker box and kennel
Exchange seats for "upscale" Wagoneer seats
Fog lights
Roof mount a spare
CB
Replace seat belts and front windshield (cracked)
If you want to buy it send a check for $230,000 and that should about cover it!
Bill Miller
Olathe, KS
1975 Cherokee