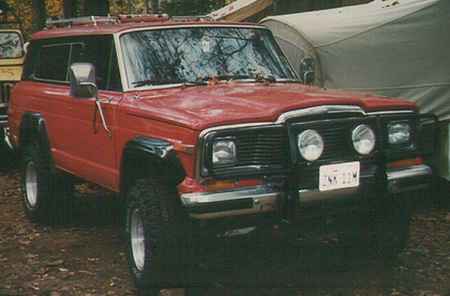 Reinforced frame
258
Jacobs Ignition
Borg T-5 ( it's ok ) with hand throttle
NP205 with 4 to 1
Dana 44 Front ARB and 4:56 gears
Heavily trussed model 20 with a Detroit and 4:56 gears
5" Homegrown suspension 1" body 36" swamper TSL SX ... 33's on in the pics
Homegrown rocker Skids
Onboard Air
Power Front seats ( toyata supra)
Amsoil in everything , been using it 14 years , the only way to go!!!
Future Plans --Road Machine
97 Cummins , changing out the number 21 turbo housing for a number 19 housing also going to add ATS Torque Pro 200 Propane Injection ( better Fuel economy) 5 speed
Dana 70 rear
Dana 60 front with ARB
hopefully I can find an ARB for a D70??
Brett Lebo ,
Dallas Texas
Lighting Desinger
I do alot of Metal Fabrication so me and my buddy Mike Green have built or done alot of mods ourselves.. Thanks to the FWDPUNKS...