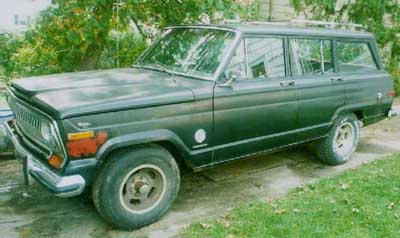 These are pictures of my new 1978 Cherokee "S" 4-door, when I first got it in October 1999. It is originally red with a red bucket-seat interior, but has been covered by a spray-can black paint-job that I am slowly removing. I have repaired the rust in the corners of the floor, and re-sealed the cowl air vent box leaks that caused the rust in the first place.
It has the AMC 360 V-8 engine/Motorcraft 4350 4-bbl carburetor/General Motors TH400 transmission/Borg-Warner 1339 transfer-case (with low-range)/3.54:1 Dana 44 axle for its drivetrain.
Due to rust concerns, I will be bobbing the front valence and rear quarters to provide more clearance off-road, and I will be opening up the rear wheelwells in order to remove the rust and gain tire clearance at the same time. I will be replacing the mismatched tires with something in the 31"x10.5" size, but I will keep the factory 5-slot aluminum rims.