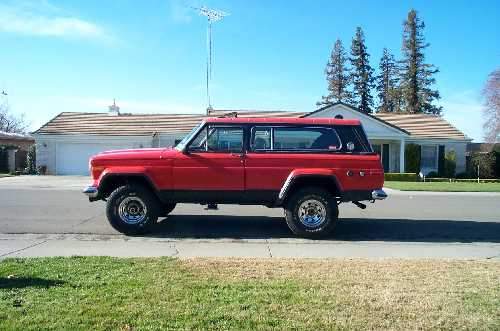 Here's Big Red taking a breather in sunny Woodland California. Normally she lives in Davis, but the townsfolk tend to form mobs and come knocking on my door with pitchforks and torches, screaming "Give us the monster!" Apparently, most of them don't care too much for the loud rumble and the smell of unburnt gasoline that Big Red leaves in her wake. Here's what she has:
- Rebuilt AMC 360 V8
- Dana 44's front and rear
- Warner T-18 Tranny
- Edelbrock Performer Intake Manifold
- Edelbrock Performer 600 cfm Carb.
- True dual exhaust going to two Flowmaster Delta Flow mufflers
- Hurst Shifter
- 3" Rancho lift
- 33" X 12.5" Tires
- Pretronix Electronic Ignition
- Accel Super Coil
- A thirst for gasoline only members of this list can appreciate
- some other stuff I'm sure I'm forgetting
In short, a whole lot of fun. If anyone in N. California (Davis) wants to go have some fun, I know of a few spots, give me an email:
snsainz@ucdavis.edu
http://www.ifsja.org/readers/cheroke...res/sainz2.jpg
http://www.ifsja.org/readers/cheroke...res/sainz3.jpg