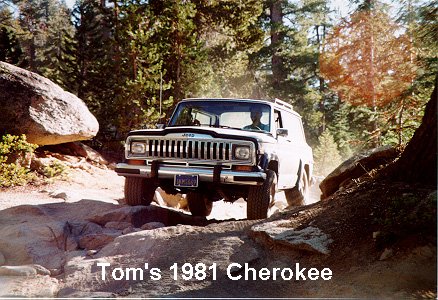 http://www.ifsja.org/readers/cheroke...ures/jeep4.jpg
Tom Writes:
THE TRUCK
My FSJ is an '81 Cherokee Wide-Track. The Cherokee came with the Laredo package which I found out (after I bought the truck) is actually one step up from the legendary Chief. This thing is set up full zoot!! After looking at the 4x4 Almanac(?) (you know, that big book with everything about every 4x4 known to man) I realized that about the only option NOT on this Cherokee is the factory grill guard. This thing has everything, all of the full-luxo stuff like the Grand Wagoneers and all of the heavy-duty off-road stuff like the Chief's. So far, the truck is still basically stock with the exception of the CD player and Jacob's Omni-Pak ignition I installed. Here's the rundown of the options it came with:
- ENGINE: 258 6-cylinder, only engine available in CA that year because of emissions. The funny thing is, in '80, the only engine available in CA was the 360, and you couldn't get the 258 because of emissions, go figure. A stout engine, nonetheless. Has Carter BBD feedback carbuerator and engine computer.
- DRIVETRAIN: Chrysler 727 Torqueflite automatic transmission w/locking torque converter. NP208 Transfer Case. Dana 44 front axle, AMC rear axle with Trac-Lock, 3.31 gear ratio. 4 shock setup (stock) on front axle. Heavy-duty cooling, towing package. Stock, chromed 15x8 spoke wheels with Riken 31x10.5 radials.
- INTERIOR: Black w/electric bucket seats, A/C, electric windows, power door locks, map lights, digital clock.
- EXTERIOR: Black w/cheesey silver decal striping which has degraded and peeled off leaving brown primer striping.
THE TRIP
The pictures you see were all taken on a trip in October to the Sierras outside of Fresno. I went for four days with 3 of my friends. We had two vehicles, the FSJ and an FSCB (Full-Size Chevy Blazer). The trail we took is called the Swamp Lake OHV route which is just outside of Shaver Lake. We drove in about half way to a camp site and stayed there three nights. Each day we hiked into a different lake and caught enough 10-12 inch Brook Trout for dinner. The trail is steeper and rockier (really!) than it looks in the pictures, though. In fact, there's a nice dent in the passenger side rocker panel to prove it.
FUTURE PLANS
Right now, the only modifications planned for the big black Cherokee are:
1. 33x9.5R15 BF Goodrich All-Terrain tires. (When the current 31x10.5s wear out)
2. New interior carpeting
3. Replace all window seals and door weatherstripping.
4. New black paint job with white Chief "southwest motif" striping (w/Mike Baxter's help)
5. Reupholster seats
6. When the engine needs a rebuild(it has about 50K on the current), a new cam, clifford header, and clifford valve cover. I think I might be waiting awhile for this.
Tom Anhalt
'81 Wide-Track Cherokee Laredo
'65 Buick Special Convertible
Santa Barbara, CA
tanhalt@earthlink.net