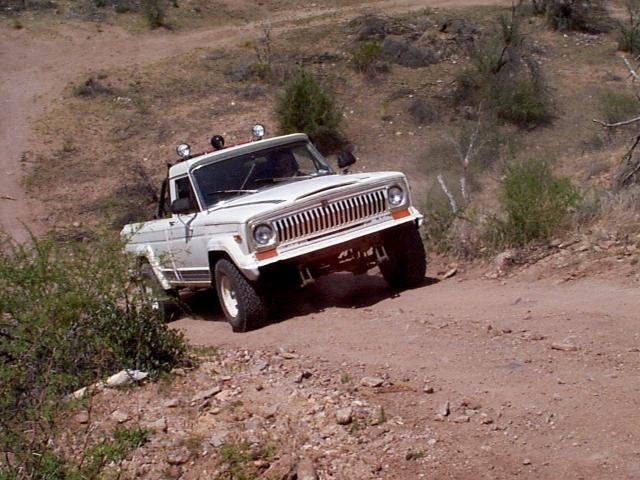 http://www.ifsja.org/readers/gladiat.../sullivan2.jpg
http://www.ifsja.org/readers/gladiat.../sullivan3.jpg
Update 3/1/01:
- 4" spring lift
- 33x12.5x15 BFG MT's
- PowerTrax No-Slip lockers front and rear
This is my 1978 J-10. I bought it in Phoenix for $1000, then promptly dumped another thousand into it to make it roadworthy. It has been converted to a Chevrolet 350 ( Edelbrock carb, intake, and RV cam ), GM TH350 transmission, NP208 transfer case, and has a Dana 60 limited slip rear axle and a Dana 44 open front axle, both with 4.11 gears. It came with a 2 piece rollbar and spare tire carrier, camper shell, and a tube front bumper which I haven't got around to installing yet. The first 'upgrade' was to add a set of Cherokee low back bucket seats, a center jumpseat, and four sets of seatbelts so that the whole family can go wheeling. Future plans include a CB, more lights, on board air compressor, on board welder, 4 inch lift, and bigger tires.
Len Sullivan
Phoenix, AZ