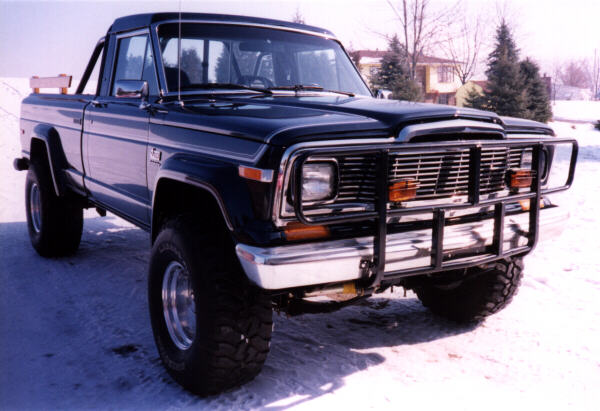 Jerry writes:
This is my '83 J-10 Laredo 1/2 ton, "Blaknblu". the exterior paint is Deep Night Blue (It's so blue it looks black, hence the name).
Engine: Chevy 383 Magnum (engine in a crate)-small block, balanced and blueprinted, 375 h.p., Edelbrock intake manifold-Performer, Chevy HEI Complete Unit, Spark Plugs-Excell Short Header Plugs.
Tranny: TransTurbo 400 with Saturday Night Special converter.
Carburetor: Holley Double Pumper 750cmf, Magnum cams, Magnum Roller and Rocker, Competition Cams camshaft.
Gear Size: Dana 44-front and rear, Gear Ratio-4:56
Off Frame Restoration-frame sandblasted, primed and painted (Powder Coated), new wheels, new interior, new Roll Bar and Brush Guard, all new bolts and bushings. In other words-like a brand new Jeep only better! There is no rust and is in excellent shape!
If anyone would know how many of these were made in 1983, please let me know!
Jerry Manning
'83 J-10 Laredo "Blaknblu"
blaknblu@radiks.net