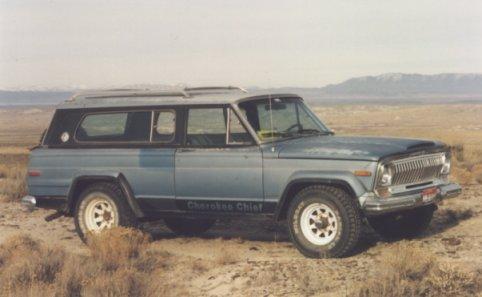 As promised, my writeup for the "mud mobile" as my teenage daughter calls it..
1975 Cherokee Chief "S"
Built April 1975 with original owner's manual
100150 miles
Engine:
AMC 360 V8
Edelbrock R4B Intake
Carter AVS 4bbl carburator
Drivetrain:
TH-400 Automatic
Borg Warner Quadratrac with low range
3.54 gears in Dana 44s
Other:
Extra 18 gal fuel tank
Swing away tire and fuel can holder
Heavy duty suspension
My FSJ was rescued from the owner of a 78 Cherokee who was planning to use it for parts. Fortunately nothing had been stripped but had been driven little and sat under a big oak tree. Needless to say the vent boxes were full of leaves and even .22 caliber shells! After a lenghty clean up I've replaced or repared:
All rubber hoses
All fluids
Alternator
Starter
Rear window
Numerious light bulbs
Rebuilt distributor
Repared engine wiring
Replaced Motorcraft 2bbl carburator and adapter with 68 model Carter AVS.
Future plans include finding original steel wheels, body work and new paint, interior work and at least a 3" lift.
Basically stock Cherokee Chief with 23 year old paint and interior not to mention a darn good daily driver
Chris G. Hollingsworth
75 Chief
Mountain Home Idaho
ICQ #4344422