Quote:
Originally Posted by devildog80
Nice work, and exactly what that truck was made to do!
I am sure your son is going to love his new place
Quote:
Originally Posted by Heep-J4000
How much did the rear suspension sag?

I had once 2800 kg stone tiles in the bed of my 73' and it scraped the tow hitch bracket when going over a curb in the road!

It's good to see the jeeps used where they are built for!
It's a truck and as far as I'm concerned it will always be a truck. I bought it to do truck stuff not to be a 2 seat sports car that gets really bad mileage like so many old trucks these days that just sit in garages most of the time and only come out to be trailered to a show, wiped down, looked at for a few hours then loaded back on a trailer put back in the garage and wiped down again to sit for another month or two.
I think technically the J4500 was severely under rated by the factory. According to the scale at my local dump the truck weighs 4500 lbs empty with me driving and a full tank of gas. By my calculations with that load of wood I was right around 5,770 lbs, so I was just a skosh over the 5,000 lbs GVW but it does have overload springs ( I think all J4000s do) so I'm not that concerned about overloading, except for the exhaust.
I think I've mentioned it before but just before I bought the truck it got a brand new exhaust system. It's a very well done system except for one thing, there is no loop over the axle, just a little joggle up.
Here is a picture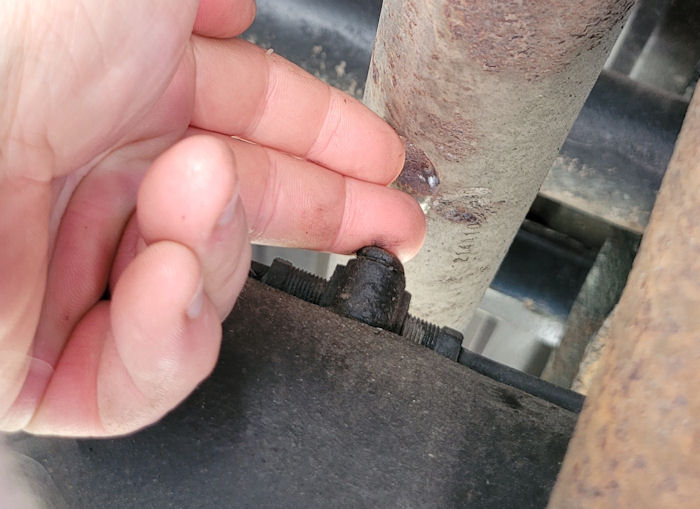 There is less than 2 finger widths between the exhaust and the block for the brakes that sits on top of the axle.
Jf you look closely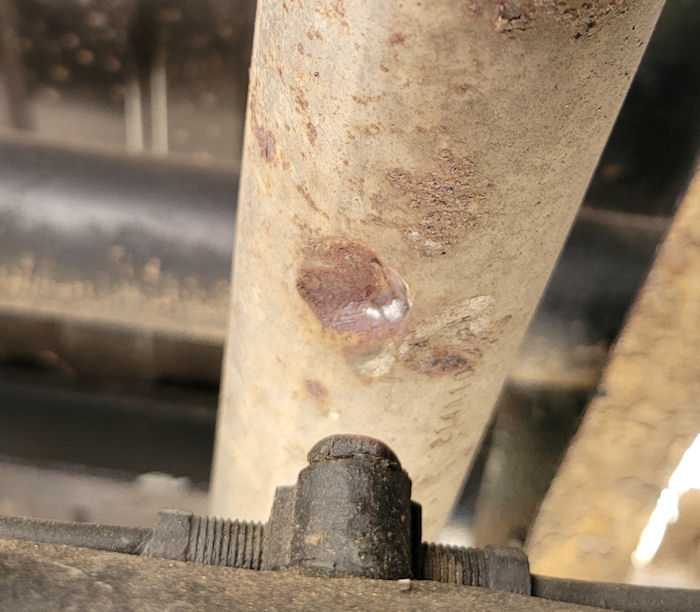 you can see where the bolt that holds the block to the diff is worn and there is a dent in the exhaust caused by loading the truck.
Yes, I know that is a very bad thing and have been meaning to have it taken care of but it's one of those things that just keeps getting neglected. Some day I will fix it
I forgot to mention something in that last post.
The other day when I pulled up to Lowe's a young girl walked up to me and asked if she could take some pictures of my truck. This actually happens pretty regularly and I always say "take all you want".
Mrs Cranky was in the Escape a few minutes behind me so wasn't there yet. I ran inside to take care of things and let them know I was back to pick up the 2x4s and when Mrs Cranky pulled up she found a young girl live streaming and posing all around the truck and had to text me to see if I knew about it
I know that somewhere there has to be pictures of my truck all over the internet.
On a different note this morning I took Mrs Cranky to the Good Guys Pacific Northwest Nationals in Puyallup. I haven't been to a car show in a very long time but I wanted to show her that cars she always perceived as "HUGE!!!" are actually no bigger than current cars and maybe we could find something she liked besides that Ponton that might be a "catalogue car", which means there is a catalogue of parts available to upgrade it rather than something like the Ponton which can be difficult to upgrade.
She kept kind of gravitating to '55 & '56 chevs, but hated the chrome on the dash, which I figure is easy enough to take care of but she hated how common they are. There was an enormous amount of tri 5 chevys there.
She absolutely loved a 1928 Buick Opera coupe which shocked me but I figure I could work with since it is frame on rather than unibody but where do you find a 1928 Buick Opera coupe? so that is unlikely to happen.
She kind of likes early to mid 50s Ford Crestlines and was hoping to see some in person to see how big they seem in real life but we didn't see any that I could point out. So that was a bust but she now feels she has a greater grasp of actual size of old cars and deep down she still loves the Ponton more and since there wasn't a single one at the show feels it has that uniqueness that makes it even more special.
Now I just need to find one that doesn't need a ton of work for a reasonable price.
One other thing that seemed to be missing was an sign of a Jeep Truck There were a few pre J-series there and some jeepsters but we didn't see a single J-series. Now that could be they were all somewhere we didn't go because we were a bit limited on time and both extremely sore from working very hard on getting everything ready for the shed to be built so we didn't see everything but there certainly seemed to be a lack of them.