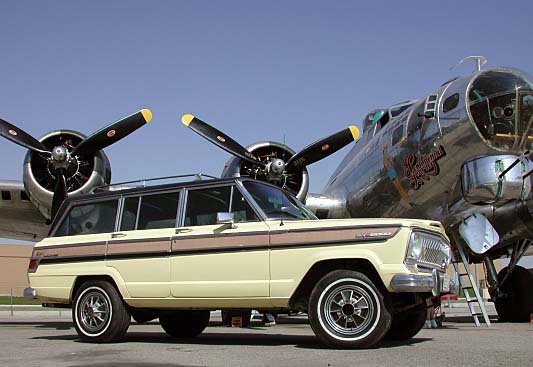 This is the original luxury SUV, built by Kaiser from 1966 to 1969, approximately 1,200 were built overall and I suspect that less than 50 were built for the 1969 model year. If you have accurate, confirmed productions numbers for all Super Wagoneers, please contact me directly at
rmsquaredjeeps@aol.com
.
This 1414X Super Wagoneer is equipped with a recently rebuilt 0.30 over Buick 350 V8 equipped with a 4 barrel carburetor and is mated to a GM TH400 3-speed automatic transmission with a console mounted shifter. The interior features vinyl trimmed deluxe bucket seats and a factory-installed A/C unit mounted in the glove box location of other Wagoneers.
Although my Super Wagoneer has been painted recently, it goes off road at least a half dozen times a year, most recently in Cottonwood Canyon, NV in a quest to find the remains of a A-12 (single seat version of the SR-71 Blackbird) that crashed 70 miles east of Groom Lake/Area 51. Photos of that trip can be viewed at
http://jeepwriter.homepage.com/A12trip.html
.
If you're interested in a more detailed history on the 1966 to 1969 Super Wagoneers I invite you to take a look at my Super Wagoneer Home Page and Registry at
http://jeepwagoneer.homepage.com/SW1.html
Richard Truesdell