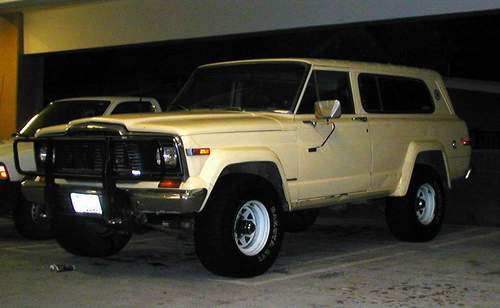 I recently purchased a 1979 Cherokee Chief S. I know nothing about FSJ's. I've always liked the Wide Tracks and now, $3,500.00 later, I own one. The body has minor dents due to the previous owner's off roading but is otherwise in great condition. I'm still trying to determine all the parts it has on it (I'm no mechanic) and thanks to sites like these, I've been able to research a lot of information. Are there any FSJ mechanics, afficiandos, or novices like myself in the LA/OC area? Sure would appreciate some help. My goals with this Jeep are two fold: 1. Every day driver (reliable, 13 mpg(if possible), and comfortable 2. Fix the 4 wheel drive (vacuum pump) and be able to off road like I was Bo and Luke Duke from Hazard County.
Vin: J9A17NN037826
Engine: AMC 360 V8
Carb: ?
Miles: 15,513.9 ( it must have rolled)
Quadra-Trac: yea but what is it?
Tires: 33's
jvale00@hotmail.com