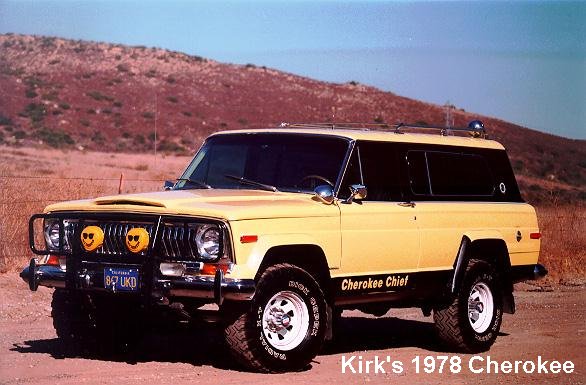 My Cherokee is a 1978. Original equipment include the Chief package, tow
package, factory air, CB, CC, ps, and pb.
Owner: Kirk Brantley
Where: Southern California
Engine: 360 2v (stock)
Transmission: TH400 (stock)
Transfer case: 1306 BW QuadraTrak (stock)
R&P: 4.27 (changed from factory 3.54) LockRight in rear.
Wheels: Stock Jeep 8" (I love the look of these wheels)
Tires: Dick Cepek 32" Radial MC (35"s are next)
History:
I bought my first Cherokee in 1987. A new two door with the new 4.0l
engine. I fell in love the car and subsequently traded it in for a 1991
four door (growing family and all). This year (96) I had to trade in the
1991 for a minivan (can we see the female influence in my life). I was
devestated to lose "my" recreational vehicle. I had thouroughly enjoyed
taking both jeeps off road with my friends. If fact, I just couldn't get
the vehicles stuck anywhere. Following my friend in his 3" lifted FJ40
Toyota with my A/C on in the middle of summer was an absolute insult to
his monster off-roader.
After purchasing the mini-van I took a vacation to Saskatchawan, Cananda
and saw many "fullsize" Cherokee along the way. I just had to have one!
Within a week on my return I found this one owner '78 and fell in love.
I have now put the last 6000 miles on it in five months. I won't drive
any other car. I upgrade the R&P to 4.27 to compensate for the larger
tire and 3" lift. This WILL be my JEEP for many years to come. I now
know why all of you that started this web page are such enthusiast about
your vehicles.
Kirk Brantley