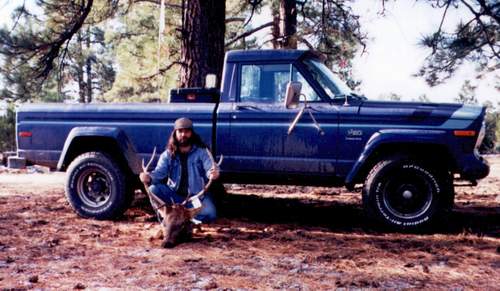 Year / Model 1977/74 AMC Jeep J-20/10 3/4 Ton
Engine AMC 401 V8 with RV cam, Edelbrock 1406 4 barrel carb, and Edelbrock Performer intake manifold
Trans Th400 Automatic w/shiftkit
Transfer Case Borg Warner 1339 QuadraTrac full time with Low gear reduction unit
Rear Axle Dana 60 Full Floating, 4.10:1
Front Axle Dana 44 open, 4.10:1
Wheels / Tires Chromed steel spoke wheels with 33x12.50x16.5 BFG All Terrains
Springs / Shocks Stock 2 leaf front and rear springs, Rancho RS5000 shocks
Brakes Front 12.5" discs, Rear 12"x2.5" drums
Misc Spring over axle conversion in the front, 5.5" lift blocks in the rear, relocated (higher) bottom shock mounts, Class IV towing package, 40 gallon aux fuel tank, Jacobs Omni-Pak Ignition.
Current / Future Projects - Finish installing new rubber all around, decide whether to stick with the 4 barrel carb/intake manifold or start saving up for fuel injection, think about painting the truck (they have this thing called rust in Illinois that I never saw in AZ).
History - This truck was my daily driver from '85 thru '95. Now it's primarily for recreational driving, I've had it on most of the dirt roads in Arizona Elk country. I don't know what to do with it now that I'm in Illinois, no dirt roads!
Other Jeeps Owned - I learned to drive in Dad's 19?? Willys military jeep, I also own a 1995 ZJ Laredo V8
Dan Matheny
Crystal Lake, IL