Hi everyone,
My daily driver is an '82 Wag Limited that is very stock, except for the emissions exorcism that I have performed on it. Has a 360, Motorcraft 2150 2bbl, automatic trans. EGR valve is disconnected and is in the closed position.
By the way, kinda like movies made by Quentin Tarantino, the story may jump around and not stay in chronological order. Please bear with me.
For the last few weeks of daily use before she went into dry-dock the idle quality had been degrading, to the point where I had to crank up the curb idle to overcome the idle circuit. I check for vacuum leaks, replaced the gaskets on each side of the plastic spacer, even blocked off the PCV valve. Still nonexistent idle quality.
Off-idle, part- and hard-throttle operation and overall engine smoothness at speed are fine and have always been that way.
Prior to the loss of quality idle, I had noticed that there is a wicked vacuum leak; in fact I cannot snuff out the engine with my hand over the carb's airhorn. The engine RPM doesn't drop in spite of my hand smothering the top of the carb.
To that end, and this is key (I think), when I "smoked" the engine (injecting cigar smoke into the intake's manifold vacuum port) with the the airhorn of the carb blocked, smoke began rolling up out of the oil filler tube.
This means that the area that is NOT supposed to be exposed to atomospheric IS - bad vacuum leak.
So this is were I am at.
While I am VERY familiar with '60s Pontiac v8s, the 'turkey pan' intake gasket and EGR intakes are casting a shadow of doubt on me.
So, as long as the intake is coming off, I am rebuilding the carb, including having the throttle shaft bore bushed to eliminate potential vacuum leaks there.
Tonite I lifted off the intake to have a look for evidence.
Questions:
- Based on what I have shared, am I missing something else?
- Are 360 intakes prone to cracking? (should I have this intake Magnafluxed?)
- On the 360, when replacing the intake gasket with a new 'turkey pan', do you put RTV silicone around the water ports? (if so, on BOTH sides?)
- Shouldn't a new gasket (as in UN-crushed embossed seals) go on DRY?
- Does adding silicone around the water ports effectively raise the ends of the intake and create a shimming effect on the INTAKE ports?
- ...I know I sound like a ranting lunatic, but am I making any sense?
Pics...
Need a new one of these:
Nothing to see here, folks...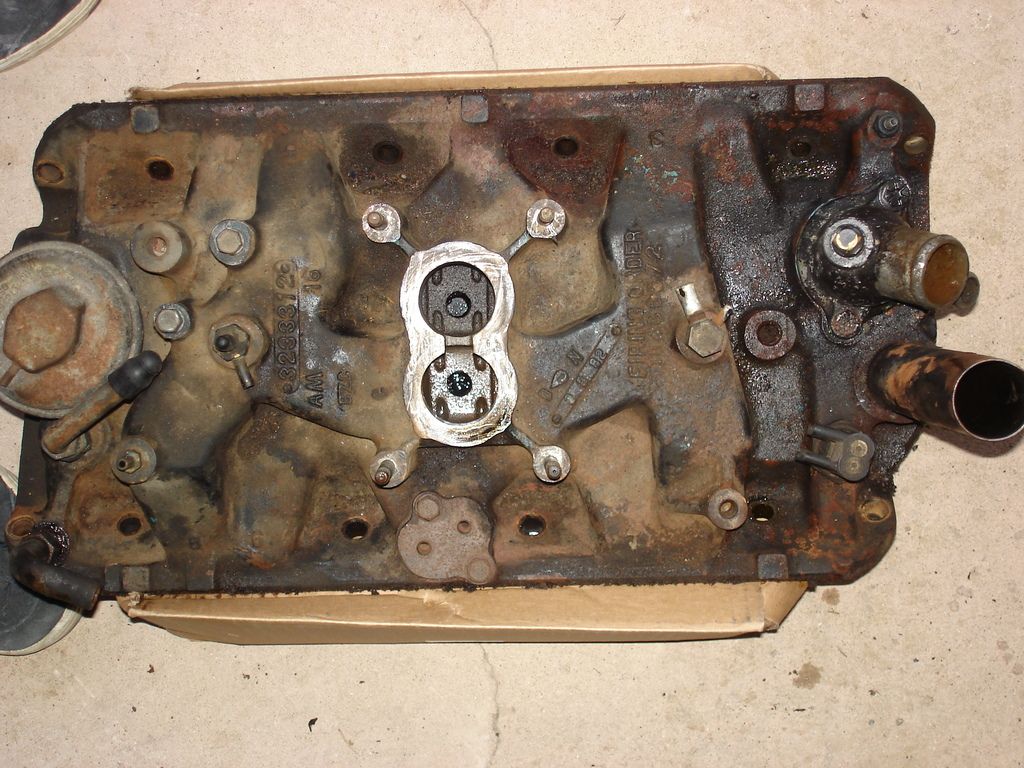 Looks good for 200k...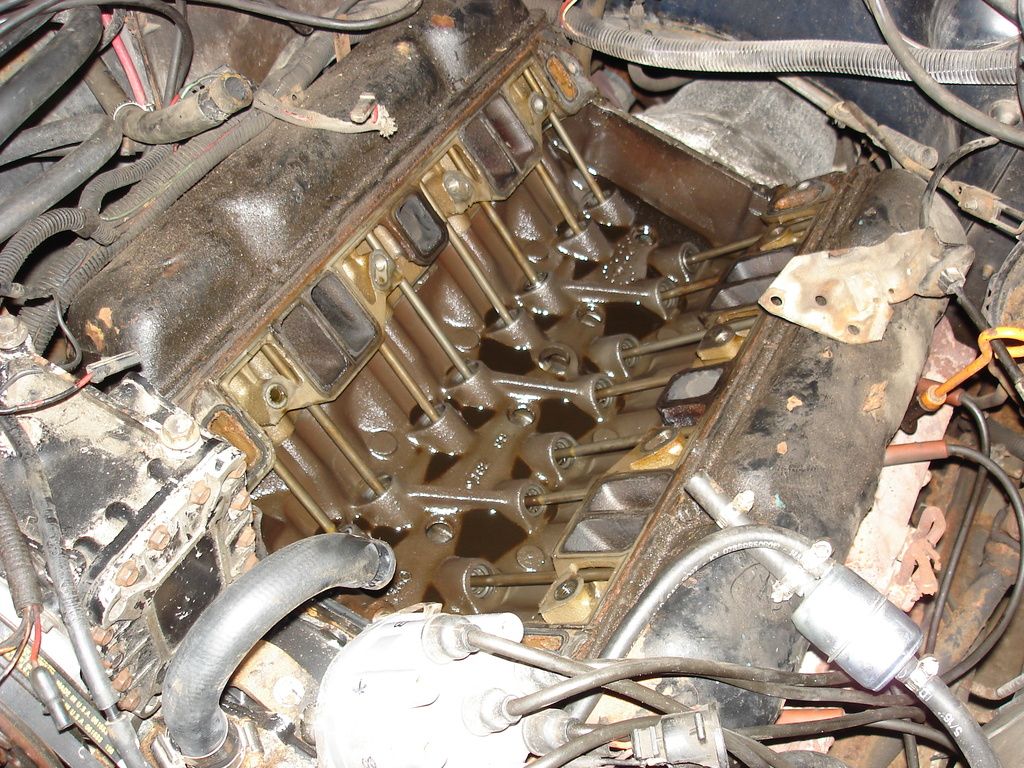 EXPERTS: Is there any 'evidence' here?
So basically, besides hot-tanking and reinstalling the intake, rebuilding and reinstalling the carb and hoping for an Easter miracle, I am out of ideas.
Thanks for reading this and giving some thought to what I typed.
~Matt