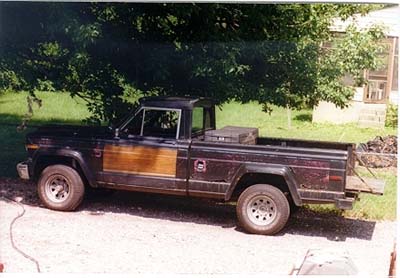 Here's a couple shots of my J-10 and one of the 258 in it.
This is a '76 J-10, T-18A D-20, D44s, 3.54 open diffs, 258 with Crower Baja Beast, HEI conversion. I got it barely running & virtually no floor. Replaced the engine with Brad Feick's built-up 258. New clutch, rear brakes & lines, master cylinder, exhaust, shocks, tires (used), power steering box, drivers side door from Grand Wagoneer (power window), built a battery box, did the HEI conversion, patched up the fuel tank, POR-15'd the floor and then fiberglassed it. Tranfer case shifter was literally filled with sand. Took instrument panel apart & fised odometer, power to gauges, replace lamps, glued bezels back on, painted needles.
Fuel gauge still doesn't work, needs the passenger's door from the same Grand Wagoneer, rust-treat the bed and put in bedliner, go to 31x10.5 Goodrich ATs and upgrade shocks to Rancho 9000s, replace spring and shackle bushings with polyurethane (rubber ones are shot), replace body mount bushings. Then take it all apart and POR-15 the frame.
But I drive it every day 11 miles to work & back.
http://www.ifsja.org/readers/gladiat...es/steijn2.jpg