Quote:
Originally Posted by SOLSAKS
cranky,
I see why you did not take me up on the decals,....
....because you can do it yourself,
I am also impressed with your lettering skills for the gladiator name,
great job on drawing the gladiator logo.
also great job on taping up the jeep letters on the tailgate.
you got a good eye for the details.
tailgate looks really good.
dave in NC
I'll tell you when I was fighting with that fine line tape I was regretting not taking you up on your generous offer. Next time I will go with the tape I know. I actually had to rush because I started masking it then got caught by someone who was likely to complain to management. I wasn't all that worried because management was fully aware of my activities but still don't want to piss people off. Then all hell broke loose and everything went south at work but since it had been recently painted I couldn't put it back under the table where I had been storing it and couldn't leave it at work over night for fear of someone messing with it so I needed to get it back on the truck that day. So every minute of free time and a few that weren't went into getting the paint on the letters in time for it to dry so I could get the tailgate reinstalled before I went home.
I used to draw and paint not just cars and motorcycles but oil on canvas and stuff like that. Today I spent several hours sitting in a truck waiting for things to break which was happening far too frequently but in between fixing stuff I worked on resizing and slightly redesigning the logo once again.
The one I did the other day was a hair over 2 inches high. It's hard to get an idea of scale but this first one is around 1.75" high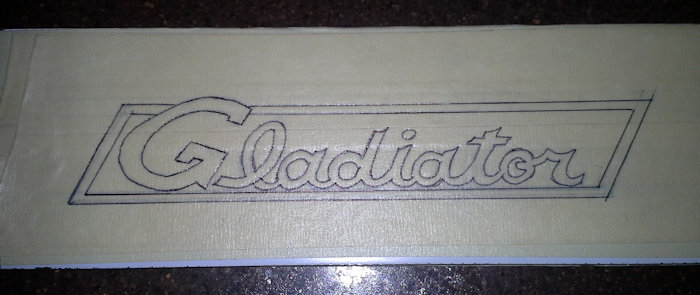 and this second one is around 1.5" high. I think this one is pretty close to the original decals and easily fits on a 2" wide piece of masking tape which makes transferring it that much easier.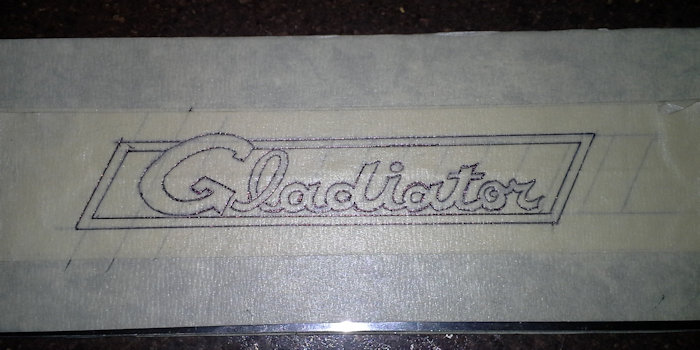 I will still probably redesign and redraw it a dozen more times before the final paint job making minor subtle changes each time until I'm as happy as I'm going to be.