-
Pickups
(
http://www.ifsja.org/forums/vb/forumdisplay.php?f=30
)
---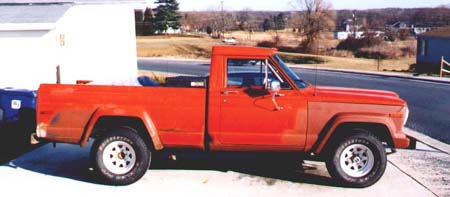 This is my 74 J10 "Big Jeep" (my son named it)
I also have a 73 CJ5 "Little Jeep"
Specs---258/T14/D20 D44s
2" lift blocks in rear
31" Bridgestone Dueler HTs
GM HEI distributor conversion
Poly gastank
Bucket seats from a Cherokee
Frame has been stripped and painted
It looks a little rough but I believe in putting
off the body work untill everything else is
done.
Lee Strawser
74 J10 "Big Jeep" 258/T14/Dana 20
73 CJ5 "Little Jeep" 304/T15/Dana 20
Carlisle PA
All times are GMT -6. The time now is

02:26 PM

.
Powered by vBulletin Version 3.5.4
Copyright ©2000 - 2020, Jelsoft Enterprises Ltd.