-
Cherokees
(
http://www.ifsja.org/forums/vb/forumdisplay.php?f=29
)
---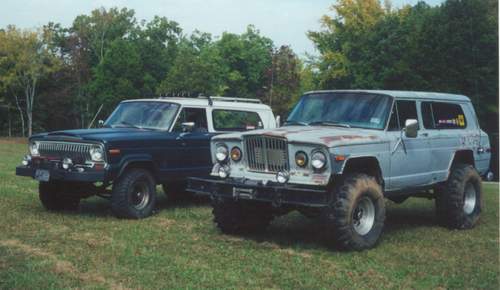 Curtis Trickler, Conyers, GA
'74 Cherokee NT
304 TH400 D20 Dana 44's
Detroit locker rear, EZ locker front
The green jeep on the left is mine, the big gray jeep on the right belongs to Mike "Smut" Selig. Picture taken at 2nd annual SEUS get-together. Mike's place, Abbeville, SC.
Mike Selig, Abbeville, SC
'74 Cherokee NT
360 TH400 D20 Dana 60's (I think)
Detroit rear, (don't remember 'bout the front)
All times are GMT -6. The time now is

01:43 PM

.
Powered by vBulletin Version 3.5.4
Copyright ©2000 - 2020, Jelsoft Enterprises Ltd.