Ol' White + Copperhead = Trail Ride
Contributed By: Ed Pedersen
Ed. note: This was Sunday, Sept. 21, 1997 Jeff
Sunday Night..........
Ol' White ( 79 Cherokee Wide Track) and Copperhead ( 78 Wag Ltd ) had some fun today >>>>>>>>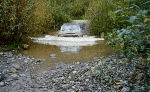 Just got back in from another Sunday of 4x4'ing with Dess & Angela from Vancouver Canada. Went for a long, long trailride on mostly fire access roads, took a few valleys that cut between mountain ranges, played on a sandy hill with several routes up it, ( Dess says, " I didn't think Copperhead could do THAT ! ) splashed through a few long mud puddles, just like kids, found out that the decomissioned road from last writeup has been re-activated and is now gated :( and overall had a great day of 70-75 F. sunnny day of good easy 4 wheeling, good company, and fantastic scenery. Copperhead came home unscathed, but Ol' White picked up a new drive line vibration, needs the carb re-adjusted, and the seat belt light won't turn off ! ! Oh yeah,and the exhaust pipe is loose from the manifold, AGAIN. !! I guess I shouldn't have blasted up that sand quarry so fast, hit a good size rock a couple of times at the top of one of the chutes, caught some air time under the front wheel, and now I have this " New " noise... All well, wants one more noise?
Hopefully Dess will have some time to write up this trailride and post it to the list. Or at least send it to me & I'll cc the list, as he is temporarily un-subscribed.
Might have one more w/e of wheeling before the rainy season comes. Gonna have to do something a little more challenging this time, right Dess ???
Just another good w/e of 4X4'ng in the Fraser Valley near Vancouver Canada. :)))
Eddie in Vancouver Canada
'79 Cherokee Wide Track QT I6 A/T
31 x 10.50 Sport Kings
Dana 44's 3.54 gears with Low Range