Ken & Ken do the Rubicon
Contributed By: Ken Renshaw
Another name for the writeup could just as well be " The Deflowering of a Rubicon Virgin ".
I was to meet SuperKen Wetherall's four wheel drive club, the Hill Hoppers, at Ice House Road Saturday morning at dawn. I had brought my son Thomas, and three friends with me, two of which were going to ride the Rubicon on dirt bikes. We arrived at camp at 11:30 PM Friday night, and performed last-minute bolt-tightening and fluid checks that lasted until 1:30 AM. We awoke at 5:30 AM, and after locating SuperKen via CB had joined up with the Hill Hoppers around 7 AM. Our total convoy included my '79 Wagoneer, Superken's '67 Wagoneer, a nice early '70 Bronco, an M38-A1 and three CJ3/5's ( I think, SuperKen correct me if I'm wrong...). We also had a Honda 125 dirt bike and a brand-new Kawasaki 650 KLR motorcycle. After shuttling one of our trucks to a campground we hit the road towards Loon Lake, and twenty minutes later we were at the Rubicon trailhead airing down our tires. My 36" TSX swampers started out at 20 psi, down from 32, but very quickly into the trip SuperKen took me all the way down to 6 psi (!). The sidebiters on the TSX's make the tire very rigid, and with beadlocks you could probably run them without air at all.
The trip begins.....
Seconds after embarking upon the Loon Lake trailhead the trail becomes granite slabs, and after crawling roughly a quarter mile of the granite sheets, the trail drops down into the trees. As I arrived at the first rock garden, I was treated to my first "Uh oh!" feeling of many throughout the day. Three CJ's in various twisted positions were trying to get around/over/through some rather large rocks, and the trail offered at least three paths with which to approach the rock garden. SuperKen narrowed the choices for our two FSJ's down to just one path: one that kept the tires on the highest points of the rocks, and one that also ended in dropping off some tall rocks, crushing both rocker panels beneath the doors and both rear quarter panels between the rear bumper and the rear tires.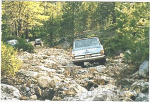 Ouch.
None of the vehicles got stuck there, but some of the little open-diffed CJ's had some fun climbing through the boulders. SuperKen and I were the only two totally locked-up vehicles, I believe. The was a smattering of lockers and posi's between the other rigs, but Superken and I had the best traction, I believe. SuperKen runs a PowerLock in the front and a Detroit Locker in the rear, and I run a pair of ARB air lockers. :-) Before we left this first section, we had to pass a rock guardian trying to barre the way. It was a *very* steep 6 or 7 foot tall ledge, and this particular obstacle gave my rig the most trouble. The ledge was so steep my engine stalled twice, when the floats shut off. The third time I powered up it fast enough to fool the carb. With all the rigs past this obstacle we continued on to the mud pits......
When we arrived, there were already Jeeps stuck in the bogs. Lovely soup it was, too. A couple of them had to get winched out, including the Bronco right in front of SuperKen and I. The driver of the Bronco declined to squeeze between some tight trees, and thought it would be easier to go around. That was not the case, and he proceeded to get highly stuck in the blackish mud. The Bronco's winch wasn't working, and was later found to have a bad electrical connection, so one of the little Jeeps lent him a hand and winched him out. SuperKen thought he could make it through the tight trees, and he did, followed by a perfect mud run that got him through nice and pretty. I followed his line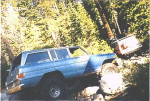 through the trees, and with my locked-up axles and 36" Swampers, had no problem at all in the mud. In fact, after the initial mud run, the trail became quite a slalom course between the trees in fair-to-middlin' mud, and I repeatedly stopped in the deepest spots I could pick, and didn't so much as spin a tire crawling out of it. I know you guys out in Louisiana and Florida could show me *real* mud, but until then.... ;-) Both SuperKen and picked up matching caved-in rear passenger doors, having hugged a tree a little too closely. SuperKen showed me a very cool trick to get around tight trees and rocks. Drive past it with your front tires, then aim your rear tire at it, and pivot around that tire on the tree. It really allows you to take a sharper corner. Thanks, SuperKen! I used that trick all day on rocks and trees.
With the lowland mud bogs behind us, we were poised at the bottom of a lengthy hill climb, one lane wide and paved with basketball sized rocks and bigger. One of the CJ's broke a front hub, and limped to a pull-off for repairs, as the rest of us made our way up the rocky trail. On closer inspection it was found that the CJ was hungry, and had spider gears for lunch. :-( The trail boss, Dennis, came to the rescue. his M38 has an on-board welder and air supply, and after fishing out chewed up spiders, welded the diff together and made a spool out of it.
Ah well, you want to locked up on both ends around here anyway... ;-)
We spent the next hour or so having an impromptu lunch as the repairs continued, and towards the end a group of three very nicely geared and setup CJ's made their way around us to continue the trail. Directly past where we were making field repairs there are two obstacles, a three-or-four step climb and then a single 4 foot vertical wall, which to me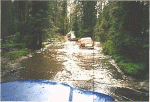 looked pretty imposing, with a bad approach angle and breakover angle at the top. Just as one Jeep was pulled over it, the first trick Jeep arrived, and promptly pretzeled his steering gear. This forced our now-on-the-trail-again Jeeps to take a bypass around the two step obstacles, but it was a pretty tight fit through some trees for SuperKen and I.
There was a large tree on the right and a tall rock on the left, so as you're passing the rock your rig tips into the tree. SuperKen hit the tree, even though he valiantly put his hand out to stop the tree. ;-) I somehow managed to avoid it, I think because I took a few more turnabouts to line up my truck. My steering pump was squealing like a pig all day, which puzzled me since it's a new pump. It only happened when I was in 4WD, and after the trip was over I found out my front ARB air solenoid was stuck open, effectively I was running a spooled front end all day.Good thing I was on the Rubicon... ;-)
With this long, rocky climb and it's tricky bypass section we found ourselves at the bottom of a huge granite slab section, climbing around to the east of Devil's Peak. After SuperKen got the fun a pulling off a high-centered CJ, we started the climb up the granite slabs. I was warned once more by SuperKen to take it easy, as a fully-locked rig on granite slabs coupled with a V8 and a 3-ton-plus truck is a great recipe for breakage.
It was at that point that the day made a 180 change for the worse. It seems the great wheeling God, Lock-a-ja-Wee-a, was bored that day, and decided to start messing with us.
At almost the exact moment, the lead vehicle ripped off a front spindle clean from the axle, and then I, at the back of the pack, suddenly backfired and died. Upon opening the hood, I saw that I had ripped out both motor mounts, and since I was climbing a steep slab when it happened, the entire power train fell backwards in the frame and twisted to the side.
At this point we were about a mile shy of Spider Lake and the Little Sluice, and we had some serious repairs to do. Simultaneous with that thought the thunderheads above us roared, laughed right in our faces, and dumped large quantities of water followed by hail upon our at-this-point sad little party. While the lead group was effecting trail repairs on the snapped spindle bolts, my hero SuperKen proceeded to figure out a plan to help my mortally wounded FSJ.

I had new motor mounts with me, having bought them recently and not put them in yet, so the problem became how to lift up the powertrain and drag it forward to install the new mounts. Oh yeah, and the rear tranny mounts were threatening to go snapple at this point, too.

SuperKen solved the problem by facing his Jeep at mine, and he used my come-a-long to pull the powertrain forward as he simultaneously lifted it with bottle jacks. By this time he was sitting in the creek that formed under my Jeep, but even at this high point of frustration he managed to do the job.

I can't tell you how much I appreciate his help, I just hope I can help him out someday.

Anyway, three hours later both my Jeep and the CJ with the welded spindle were moving again, but the magnitude of our breakdowns ( half of us had experienced major breakdowns ) and the serious weather conditions led the group to decide to turn tail and drive back out the way we came. None were more disappointed the SuperKen, as his Jeep was performing beautifully all day, and I'm sure he would have made it through the rest of the way. We had been on the trail for 10 hours by then, and believe it or not, were back down to pavement in a little over an hour. We exited Wentworth Springs instead of the more rocky and muddy way we'd come in by way of Loon Lake. The trail out had some VERY deep water crossings on it, with long sections of it having your Jeep pushing water high enough to cover my 36's and pull the cover off of one of my KC lights. SuperKen and I had the tallest rigs, and the water wasn't a problem, but I did have fun in it! :-) When I arrived at camp later I found that my QuadraTrac and both differentials were full of a lovely mix of water,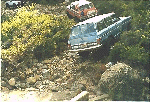 mud, and oil, and proceeded to drain and replace all the fluids. My tranny fluid and engine oil were okay, even though I had battled a nasty transmission fluid leak all day. The other chronic problem I had was my new Edelbrock #1400 carb, which seemed to flood out all the time, but I'm pretty sure that's my fault, since SuperKen tweaked it for me and it ran way, WAY better for the drive out. It stalled at least 15-20 times going in, but only once going out. We were coming down those gnarly steps we bypassed earlier, and I almost rolled my Jeep onto it's side coming off od the second to last step. I should have turned my front wheels coming off of the step.

The rest of the way out Wentworth Springs was uneventful, and upon reaching pavement I bummed some air from SuperKen, we aired up, talked a little, and said our goodbyes.

This trip was extremely eye-opening, and it was far worse that I expected. With SuperKen's help and tips, I did manage to get in and out with being stuck or hung-up even once, and if you've seen the trail you know that ain't easy. I have a long list of things to fix/strengthen on my FSJ, but I WILL BE BACK. My goal is to successfully run the Rubicon by Summer's end.

I sincerely hope SuperKen will go with me, and a million thanks to him. If he was a drinkin' man I'd owe him beers for life.... Thanks, SuperKen!

As an aside, I love my TSX's and my ARB's. Traction was *not* a problem.

Thanks for reading this report, and I look forward to tackling the trail later this summer.

Have a good one, all!

:-)

-Blue RubiKen ( as opposed to Red RubiKen.....)